Do you dream of a gaming experience that transcends the ordinary? Look no further than Ultimate-MobileGaming.com! We're here to take your gaming journey to the next level by introducing you to the exhilarating world of game bus rentals, laser tag buses, and gaming bus birthday parties. Prepare to be amazed as we dive into the details of this unique and thrilling adventure.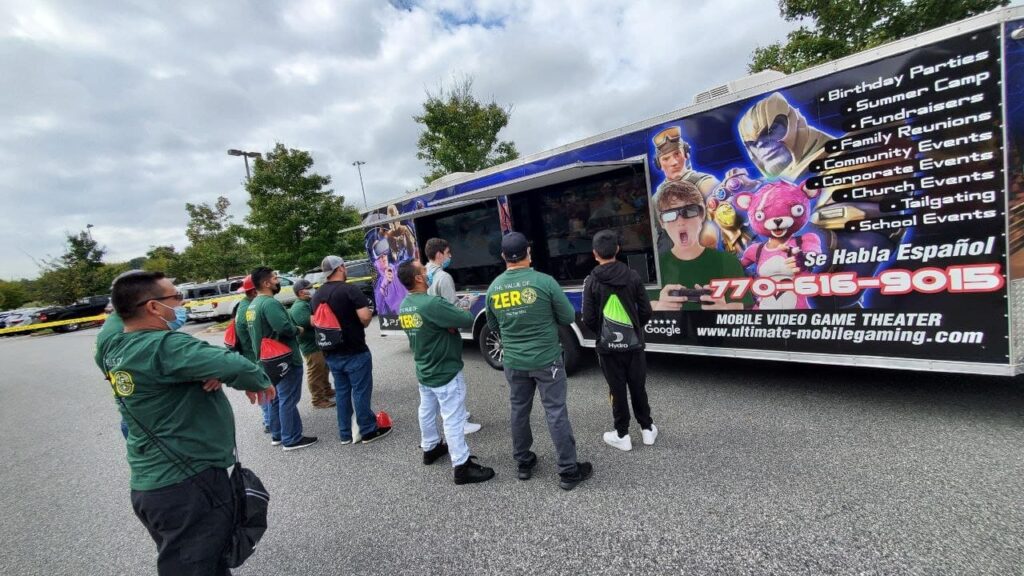 A Mobile Gaming Paradise: Gaming Bus Rentals
Gone are the days of confining gaming to your living room or a traditional gaming center. Ultimate-MobileGaming.com brings the gaming paradise to your doorstep with our state-of-the-art gaming bus rentals. These fully equipped buses are transformed into gaming havens, complete with the latest consoles, high-definition screens, and immersive sound systems. Step inside, and you'll find yourself in a world where gaming knows no bounds.
Our Game Bus Rental Experience Includes:
A wide selection of games catering to various genres and preferences.
Comfortable seating and spacious interiors for an enjoyable gaming session.
Cutting-edge technology, including VR setups and motion-sensing controllers.
Expert Game Coaches who ensure everyone has a blast while staying safe.
Laser Tag On Wheels: The Laser Tag Bus Adventure
For those seeking an adrenaline-pumping gaming escapade, our Laser Tag Bus Adventure is here to satisfy your cravings. Imagine stepping onto a bus that has been transformed into a laser tag arena, complete with neon lights, fog machines, and obstacles. Get ready to strategize, dodge lasers, and engage in thrilling battles with your friends. It's not just a game; it's an experience that will leave you breathless and yearning for more.
Key Highlights of Our Laser Tag Bus Adventure:
Immersive laser tag experience with futuristic equipment.
Dynamic and challenging arenas that keep the excitement levels high.
Team-building opportunities as you work together to achieve victory.
Unforgettable memories created through intense battles and laughter-filled moments.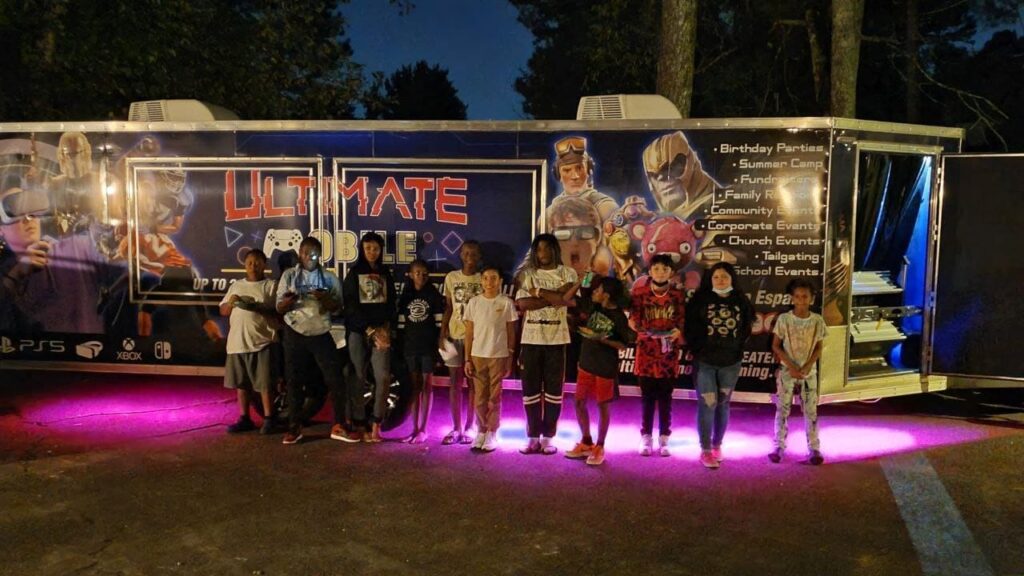 Gaming Fun on Your Special Day: Gaming Bus Birthday Parties
When it comes to celebrating birthdays in style, Ultimate-MobileGaming.com knows how to throw a party that leaves everyone talking. Our Gaming Bus Birthday Parties combine the joy of birthdays with the thrill of gaming. Whether you're hosting a party for a young gamer or an adult enthusiast, our gaming bus rentals promise an unforgettable experience that will make your special day even more memorable.
What to Expect from Our Gaming Bus Birthday Parties:
A personalized and entertaining party hosted on our fully equipped gaming bus.
Engaging multiplayer games that ensure everyone participates and has a blast.
A team of dedicated staff members who manage the gaming setup, allowing you to relax and enjoy the celebration.
Customizable packages to fit your preferences, ensuring a tailor-made experience.
Atlanta's Game Bus Capital: Game Bus Atlanta
Looking for the ultimate gaming adventure in Atlanta? Look no further than Game Bus Atlanta offered by Ultimate-MobileGaming.com. We're proud to be the leading providers of unparalleled gaming experiences in this vibrant city. Whether you're a local or a visitor, our game bus rentals and laser tag buses will introduce you to a whole new level of entertainment.
Why Choose Game Bus Atlanta from Ultimate-MobileGaming.com:
Extensive fleet of gaming buses, ensuring availability for various occasions.
Highly experienced team with a passion for gaming and customer satisfaction.
Commitment to safety and ensuring a secure environment for all participants.
A reputation for delivering unparalleled fun and entertainment in Atlanta.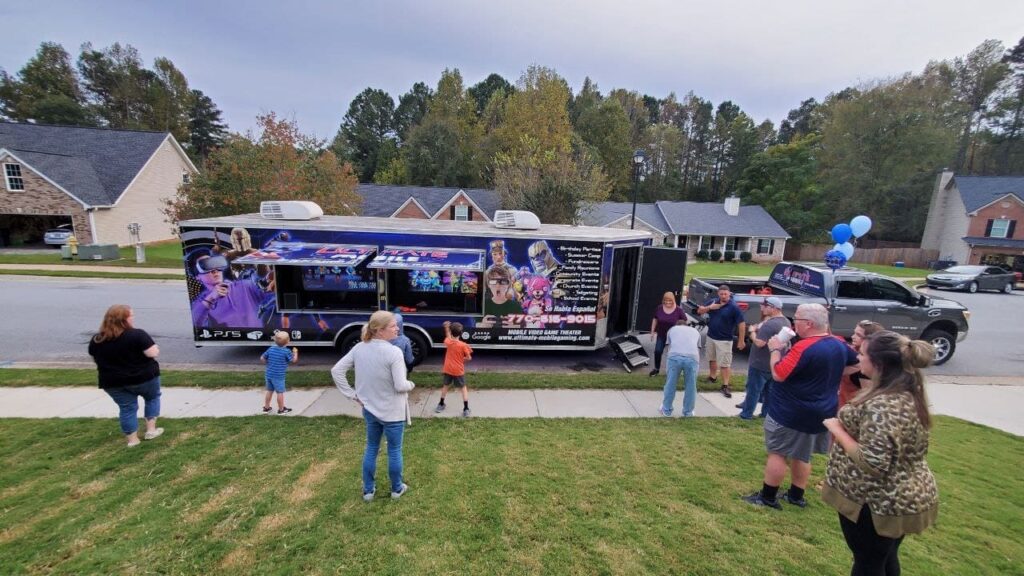 Your Next Event: Gamer Bus Rental
Thinking of hosting a corporate event, school function, or community gathering that stands out? Our Gamer Bus Rental service is designed to cater to various events and bring people together through the power of gaming. No matter the age group or the occasion, our gaming buses are equipped to provide a unique and captivating experience that fosters camaraderie and excitement.
Advantages of Opting for a Gamer Bus Rental:
Versatile and adaptable setup to accommodate different types of events.
Engagement and interaction among participants, promoting team dynamics and socialization.
Professional and attentive staff members who ensure a smooth and enjoyable gaming experience.
Memorable moments that become a talking point for attendees long after the event ends.
Frequently Asked Questions
Q: How do I book a gaming bus rental with Ultimate-MobileGaming.com? A: Booking is easy! Simply visit our website and navigate to the booking section. Select your preferred date, time, and package, and our team will guide you through the process.
Q: Can I bring my own games for the gaming session? A: While we provide an extensive selection of games, you're welcome to bring your own. Just let our Game Coaches know, and they'll ensure everything runs smoothly.
Q: What safety measures are in place during laser tag battles? A: Safety is our top priority. Participants are provided with safety gear, and our staff enforces strict safety guidelines throughout the laser tag experience.
Q: How early should I book a gaming bus birthday party? A: It's recommended to book at least a few weeks in advance to secure your preferred date and ensure all arrangements are made smoothly.
Q: What types of events are suitable for a gamer bus rental? A: Gamer bus rentals are perfect for corporate team-building events, birthday parties, school functions, fundraisers, and community gatherings.
Q: Are the gaming buses equipped with restroom facilities? A: Our gaming buses are designed for gaming comfort and do not have restroom facilities. We recommend planning restroom breaks as needed.
In Conclusion
Ultimate-MobileGaming.com is your gateway to an unparalleled gaming experience that combines entertainment, camaraderie, and unforgettable memories. Our game bus rentals, laser tag buses, and gaming bus birthday parties redefine the way we enjoy games. With a commitment to safety, professionalism, and creating an atmosphere of pure fun, we're here to make your gaming dreams a reality. So why wait? Embark on a gaming journey like no other with Ultimate-MobileGaming.com!